The feature of Twin room plan
The twin rooms can be used by couples and families on vacation and are spacious enough to comfortably accommodate two persons.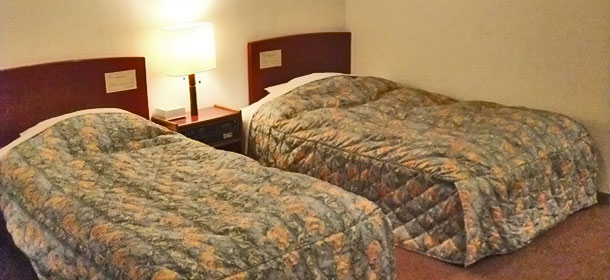 Children Under 9 stay FREE
Hotel Kiyoshi Nagoya is FREE of charge for a child under 9 years old sharing the parents room.
Convenient access
Kiyoshi No.1 is directly in front of Higashi Betsuin station, while Kiyoshi No.2 is a short 3 minute walk from the same station.
Our convenient location just in front of a subway station gives our guests easy access to many events and concert halls in Nagoya.
nearby facility and Restaurant
Atsuta Shrine(10 minutes by subway from the hotel)

Atsuta Shrine (Atsuta Jingu) is a popular shrine in Nagoya with over nine million visitors annually visiting the shrine.

Osu Shopping District(5 minutes by subway from the hotely)

The Osu Shopping District is arcade streets totalling over 1,700 meters in length are packed with restaurants and shops selling clothing old and new, sundries, electronics and appliances, and more.

Nagoya Castle(17 minutes by subway from the hotel)

Nagoya Castle was burned down during World War II and it was later reconstructed in 1959. The feature of Nagoya Castle is the golden shachi (Kinshachi) at the roof top.

Atsuta Horaiken Honten(13 minutes by subway from the hotel)

The most famous "Nagoya meshi" is a dish of grilled eels called "Hitsumabushi".

Yabaton(8 minutes by subway from the hotel)

Yabaton is famous for their miso-katsu - pork cutlet prepared with a thick miso sauce - a local Nagoya specialty.

Seiaki no Yama-chan (a 10 minute walk)

Tebasaki is deep-fried chicken wingtips. Once tasted, it is never forgotten. The spicy flavor also goes very well with beer or Sake Japanese rice wine
We can arrange accommodation from just one night up to a long term stay. Please do not hesitate to consult with us at any time. You can call us or fill out inquiry form below right now! We will reply with detailed availability and prices .

Copyright(c)2011 HOTEL KIYOSHI NAGOYA All Right Reserved.